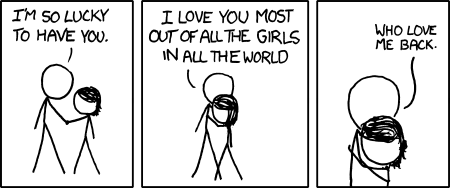 [Alt: You know that I'll never leave you. Not as long as she's with someone.]
In some ways, I'd like to think that this blog, and the greater world of xkcd-related-anger that it tries to tap into, is self-sustaining at this point. What I mean is that there's a big part of me that thinks that I shouldn't even have to write a blog post at all: not only is the horribleness of this comic self-evident, but the entire pattern of creepy, unfunny "romance" related comics that this is a part of is self-evident as well. But that would hardly be sporting of me.
I'll start with one big thing that this comic is
not
: Some people seem to think that this comic is in some way about pedophilia. Probably all these people are trolls, but i am not a human by birth so I can't quite tell if these people are being serious or not. Of course, the only piece of "evidence" these claims have is that the girl is shorter than the guy. That's true, but it hardly proves the point that she's much younger. Guys are generally taller than girls. It may not be true in xkcd world, but whatever, xkcd hardly has internal consistency. XKCD has plenty of flaws that are real, so guys, let's stick with those.
For one thing, it's a near identical copy of
comic 44
. Now that comic was a long time ago, and Randall doesn't have a search bar on his site anymore, so maybe he just forgot. But both are three-panels of a guy and girl (look who is taller! it is still the guy!) starting off by saying that one loves the other, and then revealing that actually, eh, not so much. Of course, broaden your topic to any comic where characters are in a failing relationship and you've got a
whole pillar
of the xkcd universe. Does this comic add anything meaningful to that corpus? Not a bit.
Is it funny? No, not really. There's a little bit of subverted expectations, but they are lost in the fact that basically you are seeing a man tell a woman that he doesn't like her very much, or at least, not as much as one might expect in the situation. Why would he say that? There doesn't seem to be a non-convoluted reason for it. It's more about just figuring out a way to start a sentence in a way that sounds nice, and end it so that it is mean. It's of a level of complexity with "you're pretty funny...PRETTY FUNNY LOOKING!" which I did once think was quite clever but then I graduated from 7th grade. More intriguing and complex are
garden path sentences
, but coming up with something like is no doubt too much work for a busy cartoonist.
And then of course, the alt-text just repeats the exact same joke: I love you! But not as much as I love some other people. HA HA.
not sure why i am not feeling more rage tonight, i think it's just that I've seen this so many times, there's little new to say. but just so there is no confusion: This is truly an atrocious strip, on its own, and in the context of other similar horrible xkcd "boo hoo not everyone loves me as much as I want them to" comics.