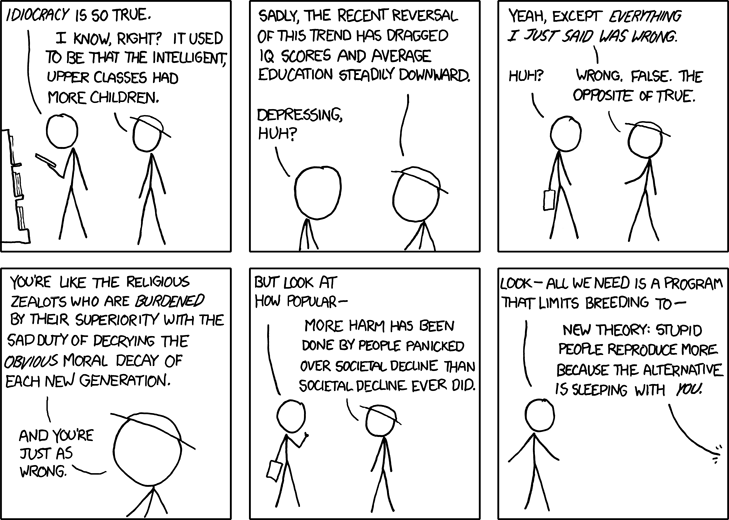 oh hello there, look who is posting
way crazy early.
I thought this comic was really, really condescending and insulting. Of course, the first time through I was just confused as all hell. I have not watched
Idiocracy

,
and so, like you, I did not understand the premise that we were working from. And there are more ideas being thrown out than people so it got very confusing. And there is a new hat! What the
fuck.
i don't have time for this nonsense.
ok
first off we need a name for New Hat, um...kind of looks like a old
british
man shooting elephants sort of a hat, the kind of thing teddy
roosevelt
would wear. Um...huh...you know what, screw it, his name is Mr. Line Through Head. yeah, look at it again, not such a great drawing now, is it? nope.
Ok
the comic itself. First off, no matter what
Idiocracy
reference he made, it would have the tricky
task
of having to be comedy based on comedy. He had this problem with
The Princess Bride
and then again, to a lesser extent, with
MathNet
. If you are going to make a joke about something that is supposed to be funny, something that generally succeeds at being funny, it's hard to make an original joke that is good without just being derivative of the original. It's not funny to quote a movie on its own, it's funny because, and only because, it reminds people of something that already exists and that they already thought was funny. Once again, Randall falls victim to this trap - honestly, the best way to avoid it is to avoid making your comic reliant on someone
else's
comedy in the first place.
But onto the argument of the comic! Because this is a comic which makes an argument, a very political one.
First off, Stick Figure #1 (no hat) starts with a simple statement: "
Idiocracy
is true". Nothing too objectionable there. Now I don't know what it means for a movie to be "true" but based on the
Wikipedia
page, it looks like the movie is a comment on the state of advertising, corporate control, and general stupidity in our society (obviously, taken to extremes for comedic purposes, but clearly meant to show us about ourselves today). That's what I assume #1 means and he is perfectly logical to say so. So then, still in panel 1, Mr. Line Through Head reinterprets the meaning of the movie to be "stupid people have more children, though this didn't used to be the case." Now there is a little about that in the
wikipedia
page, and maybe it's all over the movie and I should just see it, but given that this is not, by any account, a popular movie, you have to imagine that most readers are in my position. OK - so we've twisted what the movie means. On to panel 2!
Mr. Line Through Head further elaborates, putting words into #1's mouth that he doesn't necessarily believe. Perhaps to continue the conversation, perhaps because he is not thinking clearly, or perhaps just to not be a dick, he agrees with Mr. Line. Fool! You fell into his trap!
Panel 3! The Great Reveal! Mr. Line says "HA HA FUCK YOU" and that #1 is wrong! And then when #1 says "Huh?" as in, "why did you lie to me? What does this mean? why are you such a dick" Mr. Line treats him like a stupid little bitch as though he had said "huh? what does the word 'wrong' mean?" which is pretty clearly not what he meant. Seriously, read that panel again. Doesn't it come off as
douchey
to the max??
Panel 4 contains perhaps the most morally superior sentence ever created about moral superiority. When I read that sentence, all I could think was, "huh, you sure sound
pretty goddamn sure of yourself there,
mr
. line through your head." For a guy who claims to be decrying those who decry "obvious moral decay" you sure do seem to think that this is an example of moral decay.
in Panel 5 we get the lovely claim that "More harm has been done by people panicked over societal decline than societal decline ever did." That's an interesting one. How on earth do you measure such a thing? If one is in favor, say, of affirmative action, because I think that current non-affirmative action university admissions are racist, does that make me "panicked over societal decline"? Does it do harm, by hurting white people, or does it help the world by stopping racism? Whether you think that person is "panicking over societal decline" or not depends on where you are on the issue and how much you agree with them. So the idea that you can just go about proving a statement like Mr. Line Through Head's is absurd.
In Panel 6 I was hoping for one of those "As the author, I don't actually agree with this" endings that some comics have. Like the sarcastic last panel of
589
, where Randall makes fun of the sort of people who act like the characters in the first panels. But alas, no. All we get is "ha ha you are UGLY, man who looks just like me but without a line through your head!" And it's so forced in there, too - what does that even mean? Stupid people have to choose between #1 and sex with stupid people? So does that make #1...smart? Does that make him the only smart person anywhere? but Mr. Line Through Head just finished bitching him out for being
stupid.
I don't get it.
And then the overarching problem with this whole shit storm of a comic is that no where is there any proof or evidence offered for the claim Mr. Line Through Head makes. Ordinarily claims made in comics don't need them, but in this case, since his whole point is about one guy being too sure with no evidence, I would have like to see
something.
In the alt-text, on the blog, somewhere. So why should I believe Mr. Line Through Head? He has no better evidence than #1 or anyone else, so who gives a shit what he says?
oh also he spelled "zealots" wrong because he is unprofessional and a hack and only fixed it when people noticed, and he didn't admit he changed it. that's downright
orwellian

,
Randy.