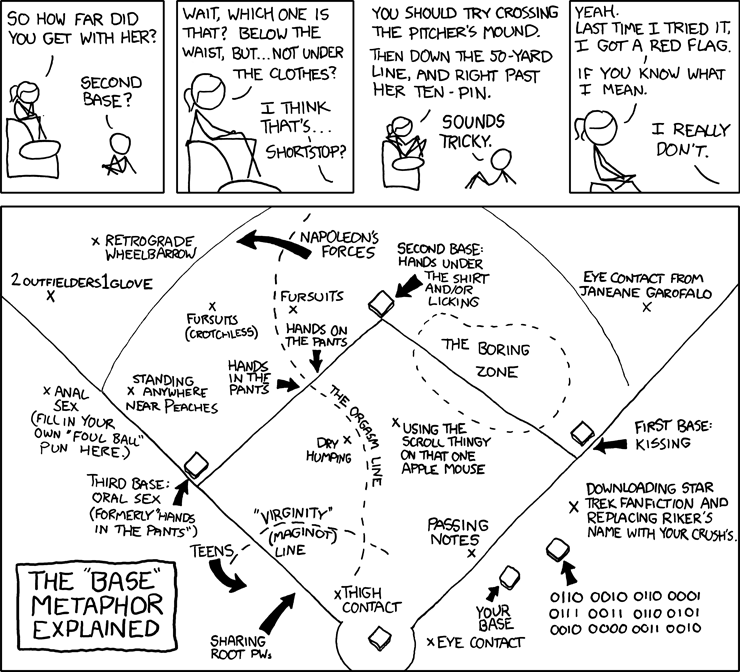 Isn't there supposed to be some rule that baseball is, like, inherently anti-sexual?
Look, Randy, unnecessarily complicated charts aren't funny. Nor is being intentionally nonsensical. Sure, you had a few gags here and there that were okay. And I suppose, if anyone ever used the analogy anymore, ever, maybe it was meant to be useful? I mean, I sure as hell didn't know what the "base" analogy meant. Maybe that's why it's just not that funny?
But it's just--
okay i can't go on like this. WHAT THE FUCK IS WITH THE ART. She is fucking HOVERING OVER THE TOP OF A CHAIR. And then she does this fucked up spidery thing, like she is coming down to DEVOUR HER YOUNG, and then she's BACK TO THE FUCKING HOVERING. WHAT THE FUCK RANDALL. WHY DO YOUR WOMEN HOVER. Is that how it's going to be? In your world women never come into contact with... chairs? Why do you hate Jesus? Why do you hate freedom? WHAT THE FUCK WHAT THE FUCK WHAT THE FUCK
Moving on.
We have another nod at furries, which is, okay, creepy. And what the fuck? Napoleon's Forces? Random is not funny. Nonsensical is not funny. Anyone can do it, and you know what? It's not funny. There's a trick to it. You need to find something which is nonsensical but
appears, at first glance, to make sense.
It should be a "wait, what?" moment where you actually try to think about it. That's how you do random humor. You do not just randomly throw Napoleon into a sexual analogy.
Credit where it's due: I found the initial phases of conversation, apart from it being entirely unrealistic that I would ever have it with anyone, ever, kind of amusing. "I think that's... shortstop?" (Which is actually between first and second but I still liked it.) Then it took a dive into "I know, I will just THROW OUT A BUNCH OF RANDOM SPORTS TERMS" and then...
the hovering. the hovering. oh god the hovering