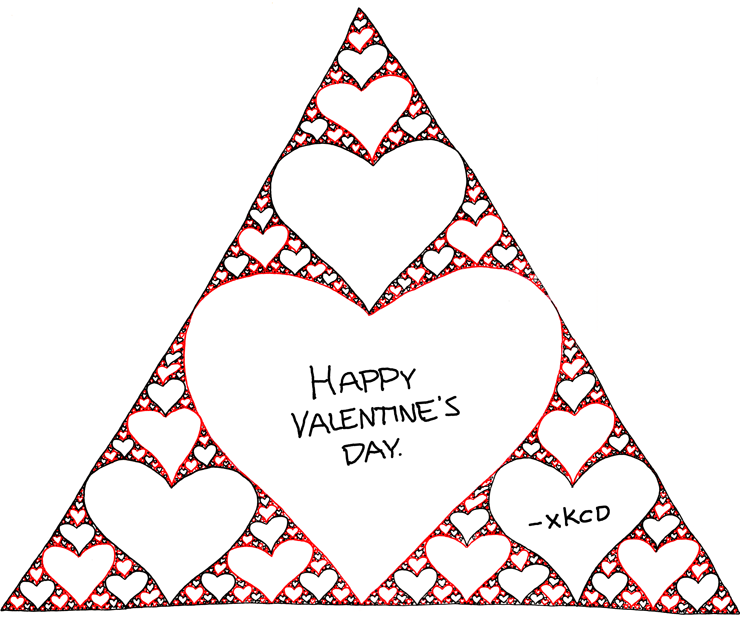 If you are expecting a particularly cynical post today because valentine's is bad topic for a bitter man with no capacity for human emotion,
guess what you are right!
Oh my. Oh my goodness. What have we here.
First of all, Randy my love, a card to your readers is clearly not a comic. It might make your readers feel all special, but just going "woah ho it's valentine's day, guys!" does not count.
Now I know we have the Sierpinski hearts, and I know it's uproariously funny because hearts sort of look like triangles, but come on. We've seen this comic
cram hearts into math before
, and quite frankly it doesn't have that much humor potential to begin with. I'd say it was old by
the second instance
. Hell, we've even seen
Sierpinski humor
before -with the exact same rhythm, no less- , and that is such a specific topic that the only three
google hits
for it are in what appears to be polish.
Anyway, Commentor Rob presented convincing evidence that the idea isn't even Randall's - or isn't his entirely. To quote from his e-mail to me:

At the first ever Information Superhighway, there were a bunch of whiteboards brought by the Olin crew. Christina Xu drew questions on the various boards, like "What do you want to learn?" and "What can you teach?" and probably some other things (explore HERE). So, a Sierpinski triangle was among the first things that got drawn (later turned into a Sierpinski pyramid. Here we can clearly see Mel drawing parts of the triangle. And the planning photo.

I wasn't privy to the design meeting for this, so I couldn't tell you for certain what the creative process was, but this isn't just "I had a conversation with my friends and turned it into a comic." This is "a friend of mine was instrumental in the design of this Clever Drawing that I am now appropriating for my webcomic without any sort of explanation anywhere."
So, yeah, just something to keep in mind....
What I hadn't realized was that we've actually gotten a valentine's day comic every year from xkcd. The
first one
, in 2006, was pretty funny, and
2007's
was not terrible. At least they were a little ironic and tried to go against the usual sugary nastiness that is corporate valentine's day. And then of course during 2008's valentines day readers got to see what I believe the general consensus says is
the worst and creepiest xkcd of all time
. So not really a valentine's comic, though I can't help but think that it was inspired by a particuarly depressed Randy sitting alone on valentine's day.
I guess Randall figured that if his comic is going to be about romance than he has to make note of it on Valentine's day, and then he couldn't think of anything better to say about the topic, but hey, he hasn't let that stop him before.
PS -for an example of a damn funny valentines comic, head on over to
Saturday Morning Breakfast Cereal
.