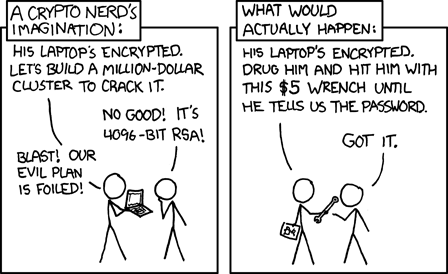 Hello it is Rob again, just stone cold guest blogging for the week.
In the interests of full disclosure: this one was not bad. I didn't laugh but I read it and was like "okay, kudos, Randall, this isn't horrible."
But then I started thinking about it, because that is kind of a boring post, right? And this comic just lacks verisimilitude. I'm not really sure what he's trying to say here. Is he suggesting that cyber encryption is useless because nobody will ever care about your secrets? Or that it's useless because you can still just beat those secrets out of somebody? Or that that's the modus operandi of people who want to break into computers? Or that people who encrypt their data are deluded?
But okay, there's lots of scenarios in which cybercrime happens. Obviously some are simpler than others--the dude who broke into Sarah Palin's emails just guessed her password question. But some people try harder. I mean, if you really want someone's data, and you know how to break in. I can't envision a scenario in which you would just drug and beat someone for their data, though. That's something random criminals do. Usually data theft is something you don't want them to be aware of ahead of time.
Maybe he's trying to say people go to unnecessary lengths for good encryption? But none of the crypto-geeks I know go very far. And the point, as far as they're concerned, is that it's easier to encrypt than decrypt.
And the more I think about it the more I end up thinking 'uh, Randall, this just isn't funny.' But it's not saying anything either.