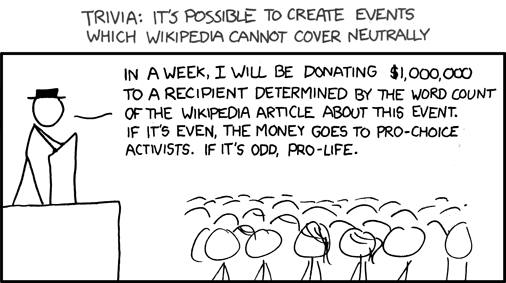 I NEVER REALIZED WIKIPEDIA COULD BE SO FUNNY BEFORE!
xkcd sure has squeezed a lot of pathetic humor out of wikipedia. Ha ha,
wikipedia has useful articles on
everything!
Ha ha,
wikipedia sometimes has too many details
and also is written by nerds! Wikipedia can be
distracting
(ha ha?)! Ha ha, wikipedia...um...has a
passive agressive way of challenging facts
? I don't quite get what the point is on that last one (fun fact: this was one of the first few xkcd comics I read).
That last one, of course, is basically the exact same drawing as the new comic, and I have to assume it was a deliberate reference. The question is...why? Yeah they are both about wikipedia but, you know, a reference is usually meant to comment on the originial - this is just "GUYS i thought of another wikipedia joke hey hey remember that other one I once made? That one was pretty ok, yeah?"
<rant>

OF COURSE you can make articles that wikipedia can't cover neutrally! Anything self-referential, like this little plan, is going to be problematic. Its article about itself, for example. The article about Jimmy Wales, which argues about whether he is the founder or co-founder of the site. The article about how to edit wikipedia.

OH ALSO wikipedia has some standards about what kinds of articles get made and sorry Mr. Hat but you sure as fuck do not qualify. Warren Buffet gave away $30 billion and that got one paragraph in his biography page. Not its own article. It got 89 words by my count; at that rate Mr. Hat's pathetic little million dollar donation would generate an article that was a whopping 0.0029666 words WOO HOO plus hey that's not even or odd so FUCK YOU MR. HAT.

</rant>


You know who made good jokes about wikipedia? You will not be surprised to know that the answer is The Onion. Jokes about how nerds take it too seriously? Check. Jokes about how it's unreliable? Check. Too obsessed with popular culture? Why, check! Besides, Wikipedia itself is a great source of humor - I am continually amused by my favorite WP page ever, List of Fictional Ducks.


This whole comic is just dumb in every way, from concept to execution, from the art to yet another "here, i'll just rephrase my joke" alt-text.

If only I could edit xkcd to improve its quality...



update:

Commentors respond with even more far-higher-quality-than-xkcd sources of Wikipedia based humor:
-Stephen Colbert
-Dino saur comics!
-Another, non-Dinosaur comics thing that Ryan North did!