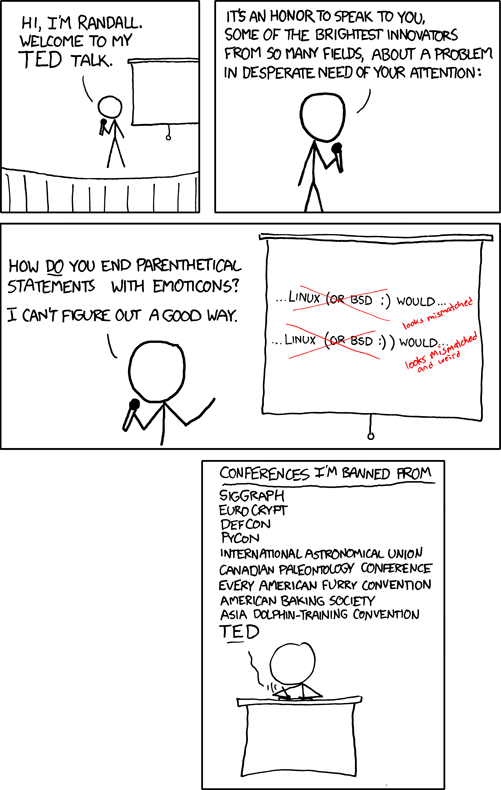 Today's comic gets put in that pile of sadness that I will call "Yes, Randall, it was funny the first time." You see, there is only so much humor to be twisted out of the concept "Randall Says Something Stupid In Front of Important People, And Gets In Trouble For It." We saw it when he
got himself kicked out of cryptography conferences
. We saw it when he showed us
random powerpoint slides
(and before you say he didn't get in trouble for that one: read the alt-text). We saw him get his
math licsense revoked
. And now we see...the same thing. For those of you who think that Randall really isn't out of ideas, can this please be the last straw? Please?
There are, I suppose, two minor, mini-jokes in this comic, neither of which is good. One is the point of his talk, the emoticon-in-parentheses-problem, which is not that funny an issue to talk about, and anyway
you're not the first to think of it
, sorry. (Thanks, forums!) The other one is the line about being kicked out of furry conventions, which rather than make me laugh made me just wonder, yet again, why the
furry obsession
, Randall?
Other thoughts: We
know
you got to talk to the google people once, please stop imagining yourself as even more important. Also, do TED talks count as an internet meme? You never hear about them anywhere else, do you? Alt-text: Wow, a your-mom joke and a three year old pluto joke. You win the shit prize, alt-text.
Update:
I am profoundly disappointed that in 195 forum posts, only one person had the decency to point out that
we've seen all this before.
To the rest of you, who spent 194 posts debating the emoticon-parenthesis question: you are only deceiving yourselves!
Later Update:
Come to think of it, does today's comic remind anyone of anything? Say, a recent
guest comic over at Pictures for Sad Children
?
waaaay later update:
Kurt points out
this SMBC
from 2005. You just try and tell me this idea isn't
old.