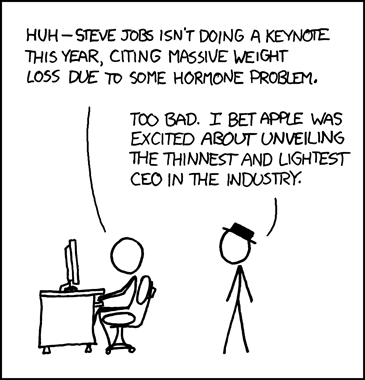 If I could embed pre-recorded sitcom laughter here I would, but I can't set it up so that it plays exactly when you read the comic, so you have to read it and then imagine pre-recorded laughs.
This comic feels like something written for a sitcom - I'm not talking about the specific,
ha-ha-steve-jobs-has-a-terrible-illness-and-maybe-will-die
part, just the rhythm of the joke. Simple "Hey did you hear the news" set up and then "ha ha, witty retort" response. It's like something David Letterman or Jay Leno would do. Actually, now that I think about it, what it feels most like is
Frank and Ernest
. Which is not to say it's a bad joke (it didn't suck as hard as some recent ones) as much it made me roll my eyes and go "ok, we get it, what's next..."
I also was annoyed at the alt-text because as we established
the last time Randall talked about DRM and Apple
, he
doesn't know shit about the topic
and Apple has been selling non-DRM music for a long time now. Knowing Randall, he'll probably take credit for this "new" development.
In any case, this gives me a great excuse to link to this video from I guess January 2008 and say the best apple-products-are-thin-what-if-they-were-like-people joke is
this one
.