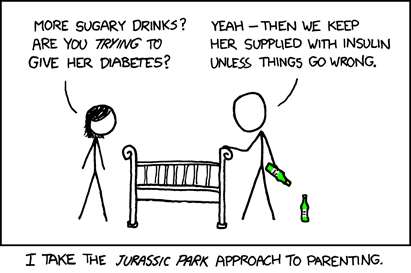 OK everyone: Raise your hands if you understood why this had anything to do with Jurrasic Park. Anyone? I know I didn't. Luckily the Internet came to my aid: You see, the man is saying that he will give the child diabetes (fun fact: diabetes does not work this way!) and then, should the child turn evil, the man will deny his child insulin such that the child will die. This is similar to the plan that the Scienticians had in
Jurassic Park
to keep the dinosaurs under control. You may not have noticed that element of the story if you, like me, spent all of Jurassic Park going "holy crap, those dinosaurs are SO COOL"
Anyway, I did not understand it. So I was just confused. I was just like, "Yeah, we get it, you love Jurassic park." Guys do you know how many times he has referred to it? Guess. According to the robots at Oh No Robot, it is at least four!
That's
a
whole
crapload
. Not to mention the continual raptor stuff we get to put up with that grew out of it. Anyway I guess I'm just wondering how much more he is going to reference
that specific
book and movie.
Would that plan even work? As long as the child is dependent on you for insulin, won't they also be dependent on you for, you know, food and a home and stuff? Dinosaurs don't need that because
they're freaking dinosaurs
but it is my understanding that a human child would need that.
For some reason I would have expected this comic to generate more wrath from me, and yet now that I am sitting here writing, I have little more to say. So- what do you people think of this comic