Hello again my loyal readers. It's been quite a while since I've written a post here, and I'd like to thank Rob and Thomas for filling in while I sat around and sat on my fat ass.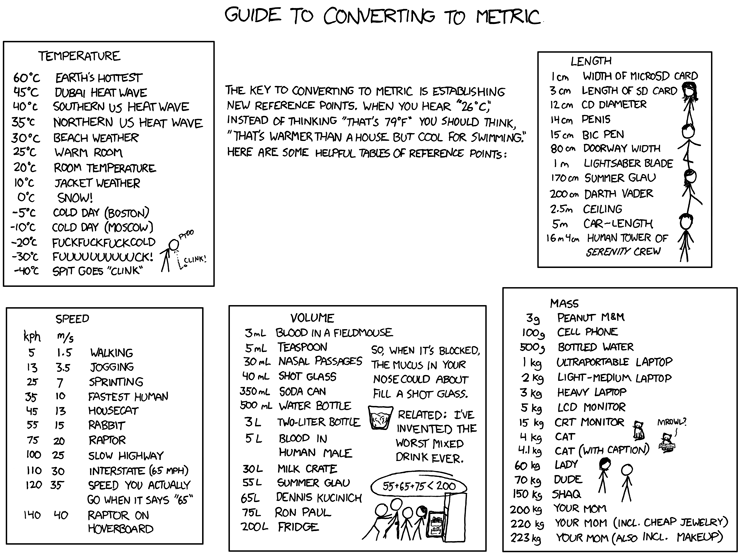 Well I certainly have no shortage of things to write about with this one. Hell, I don't even know what it's supposed to be - since 80% of the entries aren't even trying to be funny, I wonder if maybe Randall is actually trying to be helpful, but then I yell angrily "argh then why the HELL is he putting it in the space normally reserved for some kind of COMIC" and then I kick a wall for a few minutes until I feel better.
Seriously, under "temperature" we have "jokes" like "ha ha what if i measured temperature in terms of the cursing you would employ in that temperature" and "spit making funny noise" (fun fact: at that temperature, -40C, you would actually not need to convert, as -40C is exactly equal to -40F! amazing. If only Randall knew some
science
)
Under "length" we get a dick joke, which is nice because we
haven't
had
those before. We also get some Firefly references, which is nice because we
haven't
had
those
before
.
Under "speed" we LOOK RANDALL WE GET IT YOU ARE SCARED OF RAPTORS IT WAS PRETTY FUNNY FOR A WHILE but look of you want it to
stay
funny instead of
suck like it is now
you need to do something
new
with it. Just "I'm scared of raptors ha ha is funny joke because are extinct ha ha" over and over and over and over again is stupid.
Under "volume" we have a HILARIOUS throwback to
comic 434
and then we have some more of xkcd not being a political comic by having xkcd make fun of politicians.
And under "mass" we get a your mom joke. GOOD ONE. forefront of comedy, right there. Honestly, and I mean this one seriously, the your mom joke is really just pathetic, and almost makes me sad for Randall. It's just
such
an old, tired, stupid idea that I can't believe it was the climax of this "comic." Christ.
Anyway, it seems I must be in the minority here, I mean, forumite
BRNZ
had "at least five times when I put their discussion on hold due to my uproarious laughter" so i guess I am just missing the jokes!
Lastly, is there any good reason why Randall is talking about the metric system now? As far as I know there has not been any major push to switch recently. In any case, for my money, the best metric-conversion jokes were in an old SNL skit, which you need to find a video of somewhere - it's from the April 24th, 1976 episode, and if you really want to there is a
transcript
but it's not very funny without the video.
ahhhhhh it feels good to be back