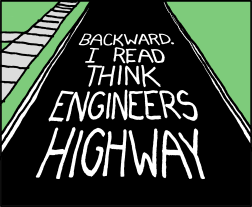 [Alt: They actually started the reversed-text practice in 1973 -- not for ease-of-reading reasons, but because too many people were driving backward down the highway blasting the Star Wars opening theme.]

I find this a wholly boring, forgettable comic. Yes, sometimes words are printed on the street/highway such that if you were to look at them in this way, they may seem backwards (not "backward"). But they aren't meant to be read that way; they are meant to be read in the way most useful to drivers, and that means: if you can't see the message easily and all at once, write it in segments so that drivers can read it logically. It's sort of like how if you read a blog from top to bottom, you'd be reading it "backwards" because it's the opposite order of how it was written. Crazy! (this is as good a time as any to point out that Randall recently passed the 3-months-without-a-blog-post milestone, an event which I note with no comment).
The point is, yes, the text is written in an unusual way, but it has a reason, and anyone who thinks about it will understand it. Jabbing at the highway engineers who wrote it in the best way seems pretty obnoxious to me.
Also, though Randall later changed his alt-text to be accurate, it
did
originally imply that Star Wars was released in 1973, a claim that
laughably incorrect
to anyone who is
actually
a nerd. But that's ok! You don't have to be a nerd, you just have to pretend. I have, of course, presented the alt-text as originally written. No acknowledgement of the change was made on the part of xkcd.com.
----------
I, like many people, noticed that Ryan North co-edited a book based off an old comic he wrote. It's a collection of short stories, all written by different people, and as you can see by the
list of authors
, one story is written by Randall Munroe of xkcd fame and fortune.
I'm not sure what to think about that - one the one hand, most of what we've seen Randall create over the last few years has been pretty terrible. That said, this book got hundreds of submissions and I think highly of Ryan North (and David Malki, who has sent me some free books from TopatoCo, one of which i
still need to review, dammit
) and I don't think he'd include a sub-par story just because it was written by a well known comic person. Anyway - we'll see how it is, I guess! A cool idea for a book.