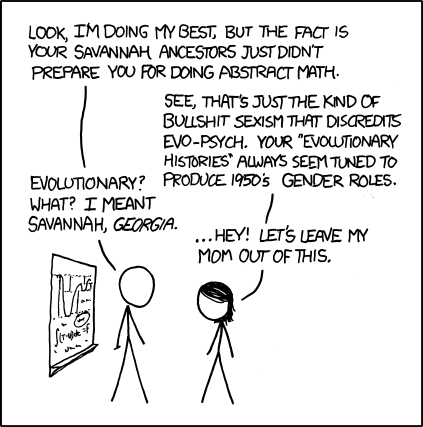 [alt: She's a perfectly nice lady from a beautiful city, and there's no reason to be mean just because she thinks a quarterback is a river in Egypt.]
I know in general I usually post about comics after you all are done talking about them, but in this case, I really couldn't wait. This comic is so weirdly confusing and terrible.
First, to get this out of the way - yes, the art is basically the same as yesterday's. It's not exactly the same - I checked, very meticulously - because as you can see in this comparison, the man is
clearly
raising his arm in one drawing and is not in the other. Let's look at the two with the dialog removed:
Anyway. The joke is, the boy says something about the girl's math skills. The girl think that he is saying "it's not your fault you are bad at math, evolution made women worse at math than men." So she gets offended. But then he clarifies, "No no, you are not bad at math because you are a
woman,
you are bad at math because you are a
stupid fucking southerner and they are all inbred racist hicks.
" So you see, he is not being offensive at all, ha ha!
Now, there was some confusion here, as I had not been previously familiar with the nickname "evo-psych." I knew it had to be
bullshit,
as the girl so helpfully reminds us, because it was not math or physics, and therefore, it is bullshit (there are only three categories). So I don't understand why he is teaching her "abstract math" is he is an "evo-psych" person. Surely a person wise enough to study math wouldn't sully his reputation with fake science? I AM CONFUSED.
I'm also confused as to why the girl didn't realize what he meant. If she was from Savannah, Georgia, and told enough people about it that her math tutor knew that she was from Savannah, Georgia, and he mentioned her "savannah ancestors," wouldn't she assume - given that it is her HOME TOWN or at least her ANCESTRAL HOME - that is what he meant? but of course i forget that she is an inbred southern hick like all of them so that is why she is DUMB.
I mean, this is like a person from Turkey hearing "well you are bad at math because of your turkey ancestors" and them saying WHAT, HOW DARE YOU CALL MY ANCESTORS TURKEYS! THAT IS SOME GRADE A BULLSHIT RIGHT HERE and then the guy is like, dude! I meant
from the respectable nation of Turkey. You are dumb because your family is from the respectable nation of Turkey.
And then, yeah. the rest of the conversation after that.
I also dislike this comic because it goes against the spirit of two
other
, far superior comics he's made in the past - there was
"communicating badly and then acting smug when you're misunderstood is not cleverness"
except that that's totally what he's doing here, and then there's
"girls are treated to a different standard in math"
one. That second one's a little different but the point of the comic is still, "you are bad at math because you are a member of a group that is stereotypically dumb" so i think it counts. (and thank you, gamer 2k4 for reminding me of that first one).
Also, series of years shouldn't have apostrophes in them. The apostrophe is not standing for a missing letter or letters, it's not signaling a possessive, and it's not part of a name like O'Reilly or O'Malley. For a guy who claims to like language, he really should know that one. Just because a lot of people make that mistake doesn't make it ok.
Moving along to your mom jokes, this comic ends with a your mom joke! HUZZAH! the highest form of comedy is once more, against all possible odds, achieved!
Unless, of course, you stop to think about it. Because, it's not a your mom joke at all, it's a guy saying, "your family is stupid and they raised you stupid." And she takes offense because he has mentioned her family, which does, it must be admitted, include her mom? i guess she's just so STUPID that she thinks that makes sense! And i guess randall munroe is just so STUPID that he thinks that's a good punchline!
Look - if you think that this comic has a good Savannah/savanna joke, ok, fine. You are wrong, but whatever. The point is, if that's the joke, make it the end of the comic! Make it have the emphasis that the end of the comic. But the last line as it is now, that's just a let down.
Don't even get me started on the alt-text. let's - let's just leave it at "makes no sense and when you finally understand that it's just a combination of two unrelated your mom jokes you wish for the time when it was something you assumed was a reference to a song or movie or some nonsense like that." Yes, let's leave it at that.