I return! As I had called away mysteriously, I was unable to post about comic 779 on time and rather than skip it or post a full post, I'm going to combine it with the next one, a move that is only slightly precedented on this blog (but which is quite frankly not a bad idea). This is mostly out of necessity, but it also happens that they have some things in common which I think are worth touching on. Specifically, they both are in some ways closely approaching a joke, but each makes a crucial mistake that sets the comic's value back enormously.

Let's take a look!



[Alt: Don't need any, thanks. I have a backscattering fetish.]
First, a note about the art - some readers expresses the theory that that four right-most men (not counting Mr. Hat) are all the same character, portrayed walking up to and away from the Viagra stand. Perhaps that is the case - they all look the same and do have the same suitcase. Alas, the art does not make it clear. I'm going to have to assume that they represent different people; that would be fitting with the general comic convention and without any evidence we can't pretend that he did anything else.
SO - on to the comic and its flaw. This is related to the fact that people seemed to be in one of two camps with regard to the joke here: Either the viagra is there because the men going through the scanner are worried about how their dicks will appear (ie, they will appear small, ie, they will appear correctly sized), or the joke is that it is there so that the guard will have to look at their dicks. Either way, it's a dick joke and we know how I feel about
those
. We also know how Randall Munroe
feels about such jokes
, or at least did, before he ran out of inspiration and started making the kind of comics that he had formerly railed against.
ANYWAY, the question is, which joke is intended? It's an important distinction because one joke is funny and one joke isn't. It's a question, I think, of power relationships - does the guard have power over the passengers, because he sees them naked and they have basically no choice in the matter? Or do they have the power, because the guard has to stay there and watch naked person after naked person, while the passengers get to fly off to exciting places? It can be taken in lots of different ways.
I think that if you have to make a dick joke - and you never, ever do - the common thing to do would be to play off of the widely spoken of idea that men are worried about the sizes of their dicks. So the idea that a man, thinking that a stranger would briefly be able to see a representation of his dick, would deliberately take prescription medicine to increase its size is, perhaps, a place where a joke might live.
Alas, that's not what the joke
actually
is. Randall could have made this comic quite easily, but instead, he added the security guard saying "oh god," making the joke "Ha ha, that man will have to look at larger dicks than he would otherwise have to." Which is just...stupid.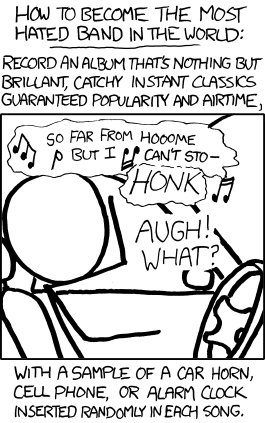 [Alt: There are two or three songs out there with beeps in the chorus that sound exactly like the clock radio alarm I had in high school, and hearing it makes me think my life since junior year has been a dream I'm about to wake up from.]
This comic
also has a serious flaw based on a good idea, though unlike the first comic, its flaw is more central and ultimately means that the comic is irredeemable.
The flaw is this: The joke is based on the idea that you make a very popular song, but you insert noises that make it annoying. If you think about this premise even a little bit, the problem jumps out: If the song is really annoying,
it won't be popular.
And, similarly, if a song gets really popular, then a lot of people
don't find it annoying.
It can't possibly be both, because people don't generally intentionally listen to music that they hate, over and over again.
A more realistic, and far better, version of this joke was done in
comic #70
, though like the original dick comic above, it's possible that that was so long ago that Randall has simply forgotten it ever existed.
Anyway, even if such a song did somehow become popular, after the first time hearing it, people would probably
realize that the song has those noises
and not be surprised each time they heard it. People aren't stupid like that. Surely people will begin to speak to one another and say: "Album [whatever] would be good, but what is up with the noises?" It's not like you could stealthily sneak the noises into the song, such that people only notice them
after
the song is popular. Though I do think that would be a fun idea. Alas, it's not what Randall is proposing here.
Also, wouldn't people get suspicious that the honking sound was coming not from outside the car, but from their speakers? One can tell from which direction sound is coming, after all.
Also, Anon pointed out that he spelled "brilliant" wrong, quite clearly missing the second "I." Take a look! To his credit, he did spell "guaranteed" correctly; that can be a tricky one!
------
So, there you have it. Two comics where, like so many, Randall could have used the editorial guidance of a friend or colleague, but didn't. His loss, really.
-----
i hope my next 500 posts are as much fun as my first 500! thank you all for reading. this would be a great time to reread the entire blog from the beginning.