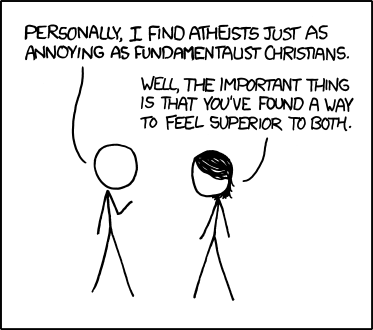 [alt: 'But you're using that same tactic to try to feel superior to me, too!' 'Sorry, that accusation expires after one use per conversation.']
Like the last comic, I find this comic exceedingly boring. Unlike last time, I won't write on forever anyway.
We all know that atheism vs. religion has been a heated debate for a long time, and many of us probably have opinions on it. That's nice. There's a lot of comedy to be had in the debate - I think it's a result of the fact that both sides are so very passionate, so it's easy to turn that into very energetic, funny material. Anyway, the point is, there's a lot of stuff you could do to make fun of this debate, but this comic doesn't do it.
A guy named Filipe wrote me an e-mail about this comic, and he pointed out that you could replace "atheists" and "fundamentalist christians" with any other feuding groups and the comic would have the exact same joke. Twilight fans vs twilight haters; democrats and republicans; social scientists and hard scientists; nazis and minorities, (or, for that matter, xkcd fans and xkcd haters). The point is just about the
nature
of disagreement, in the abstract. It's getting all sorts of heated discussion, and, perhaps, added pageviews because he choose to use something nerds happen to enjoy arguing about. But when you actually stop and think about it (something so few xkcd fans seem to ever do!) there's basically nothing there.