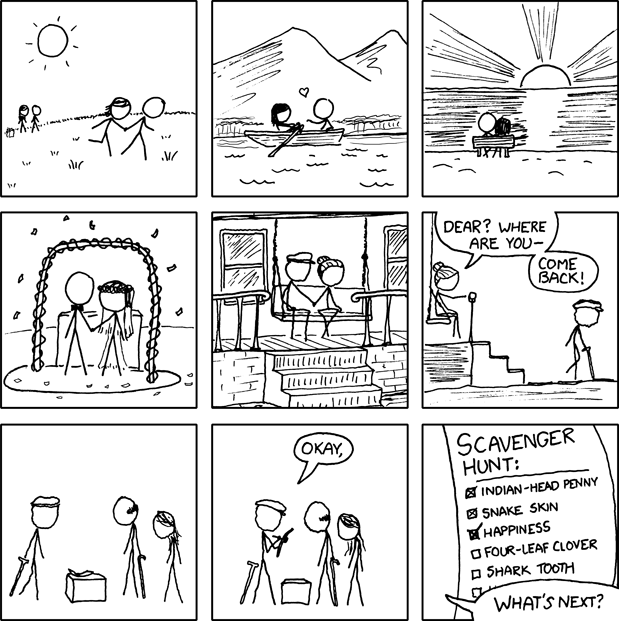 I feel a little conflicted on this one. I do appreciate the "ha ha, fuck YOU" element of the guy's whole life being for such a trivial thing as a scavenger hunt, but still: must everything end up with a
destroyed romance
?
The whole thing - this sort of lifelong charade of friendship, suddenly tossed away at the end - reminded me far too much of that recent
PFSC that I loved so much
. I know the Randall-Defenders will say that they are completely different, but I just mean the feel: Life progressing quickly and then suddenly being brought back to where we started. No? I think so.
Speaking of which, did anyone else think the most recent
Penny Arcade
seemed awful damn close to a recent
Amazing Super Powers
? Oh, well then read the title of PA and the alt-text of ASP again, and you will. COME ON, penny arcade, you are better than this. Thanks to secret agent PR for pointing that one out.
I don't usually write about art stuff because it's something I just don't care about as much, but I'm finding something starting to bug me about the shot of the front door with the stairs leading down from it, seen in panel 6. But also seen in
this panel 1
,
these panels 7 and 8
, and
this whole comic
. Also: the shrivled old people heads creep me out. Also: Why is the cane floating in panel 8. Also: do you think the other two old people in panles 7 and 8 are supposed to be the same as the people in the background of panel 1? I suppose it makes a little more sense.
------------
Um so: today is this blog's 1 year anniversary. I was going to write something long about it but then decided that would be boring. Goodness,
April 2008
, what a long time ago. Thanks to all of you readers, thanks for commenting if you did, unless you were stupid in which case go to hell, thanks to people who e-mailed me, thanks to guest writers as well. Thanks to Jonathan Harford, the first person to really comment on the blog, which was terribly encouraging.
Guys: let's keep making our little corner of the internet a less sucky place, for however many years it takes.