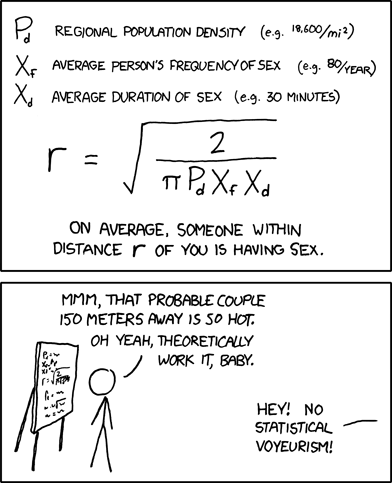 UGH randall why do you have to make everything creepy? I suppose someone could find this idea funny, but it's not like it's that bizarre an idea and once someone thought of it it's pretty easy to figure out the calculation, but I guess in some circles this passes as a brilliant idea that is just so damn funny. As it is, it's one of those comics that makes xkcd feel like Randall Munroe's Illustrated Picture-Blog With Odd Ideas. It's not funny, except perhaps in the sophmoric "oh my god he is talking about
sex!!!
" way. (incidentally, the fact that you had to add an example calculation link at the top also makes it less of a comic contained in itself and more of a presentation of an idea)
But then the second panel takes a lame idea and makes it just creepy as hell. Now, I'm not totally sure who the man by the board is talking to, as they are offscreen. But I think it's supposed to be a pair of people far away who are not having sex, but Randall is using his Math and his Probability to pretend that they are. Now, listen Randy: this part is for you:
Just because you can imagine some people having sex, this does not mean that you should tell them you are doing so. This is creepy.
Now I know you put some type of offscreen voice saying not to do this, but that doesn't help. "No statistical voyeurism!" sounds like a man telling you you are breaking the rules, like you aren't allowed to do that here. But next time, rather than be creepy, can you just leave the whole thing out? Please?
And lastly, Alt-Text: Holy crap, a your mom joke! that is so clever.