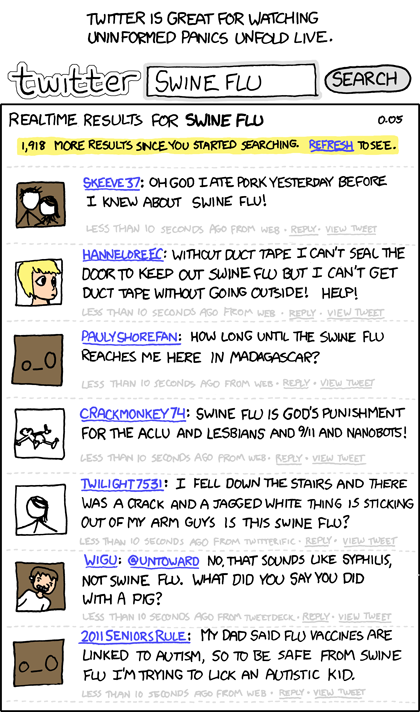 So yes, what you are all thinking is correct, this comic
is
just a poor shadow of
the youtube one
. The difference being that youtube is actually full of the dumbest people you will ever see, and twitter has that but also has smart people. When it comes to diseases and stuff, this new superfast communication can actually have some really interesting effects- as I recall, Google was able to track the spread of a more common flu a few months ago by seeing where people were searching for certain symptoms, and that actually traced the illness faster than the CDC could do it. ANYWAY that's what I thought this comic would be about, in the grand "i am xkcd and I have discovered something NEW to show you!" tradition, but I was wrong.
What we have, of course, is just "Hur hurrr, inter-net peepol R dum peepel", exactly like we had in YouTube Comic. And this was done on purpose! That is to say, Randy knew he was referencing it, because he included user "crackmonkey74" on both.
And that is actually where it gets weird: In addition to just putting dumb internet quotes out there, he made a lot of the users...other webcomic people. I didn't recognize them all, but from what I can tell, apparently
Jeffrey Rowland
is suggesting that
Joey Comeau
has been up to some type of pig fuckin' antics.
I'm not sure what the point of those references is - is he actually trying to say that those people are writing those things? I suspect not. Is he just trying to reference them so they link to him?
Mission accomplished, I'm afraid
. Is he just trying to make his readers who recognize the names think that this is the greatest comic ever? Probably. Does he end up making a much more confused joke than he intended? Yes!
long story short: References can be funny, but they have to
mean
something. Also be accurate, Jeffrey Rowland does not talk like that. He is much angrier and spells things wrong and makes up words. Here is a hint: if you can just replace the name of the person ("wigu") with
any other name
and have it still make sense, congratulations! you are being too vague in your reference!
And as long as we are discussing
Overcompensating
, I am happy to say that I am
within 10 months
of catching up to the present in the overcompensating archives! Guys: I have never been happier. this is a great comic. just beware: whenever he mentions his spider bite, do not click the link! his spider bite is so gross!
Oh also randy: if jeffrey rowland really loved you, your shirts would be on sale at his
store
, like all the good webcomics.
update:
Jay, if you don't e-mail me, I can't tell you the secret for how to be a guest poster! Then Rob will have to guest post and we all know that no one wants that to happen.