[Noted pirate "ThePirateKing" sent me this guest review, which is short but probably had more thought put into it than my usual reviews, because I am actually incapable of thought. -Ed.]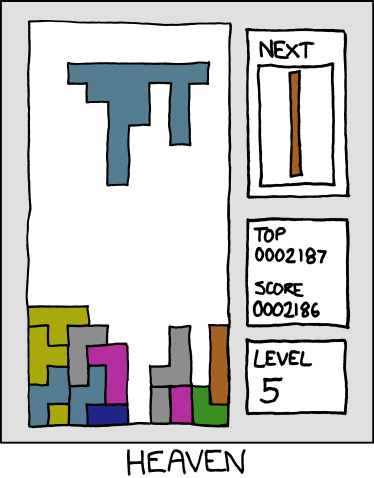 Comic 888 is really pretty boring. It's basically the exact same idea as 724, just in reverse. This is really lame. If Randy were clever, he would have thought of both those concepts and made them one comic. But it took him over 150 comics to think of the logical reverse of the "tetris hell" idea. And it's not at all funny, either. Mainly because, and I think it was Carl who pointed this out, it was never original to begin with.
So fuck the actual comic. I'm going to talk about the alt text.
You see, after hundreds upon hundreds of shitty comics, Randy has finally found his comedic genius. He has "cast off his commercial shackles", to quote an earlier and better xkcd, in order to call out his gaggle of GOOMHRing fans on being pasty virgins. "If you've never had sex"... as if there is a hint of doubt with this audience!
The most hilarious part is that his fans will not realize they are being viciously mocked! They will GOOMHR, and marvel at Randall's supposed insight on the sexual world, all the while secretly lamenting the fact that he's right, they haven't had sex.
Truly a clever subversion of xkcd's blatant catering to its fanbase.
[in all seriousness, does Randy know what "ennui" means? Or "redundancy"? It's a bit like tautology... ]