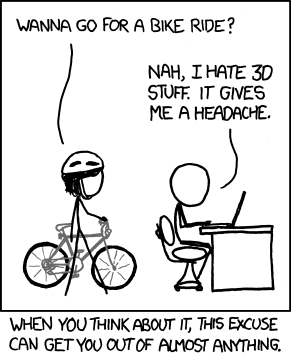 [Comic title: Headache; Alt text: I'm only willing to visit placid lakes, salt flats, and painting exhibits until the world's 3D technology improves.]
We can tell this comic is an April Fool's joke because Megan is asking Randy to do something with her. This has never happened, and you were all FOOLED. It is doubly foolish, because in such a situation, Randy would never turn her down--this is his attempt at pretending that, in such circumstances, he would "play it cool."
But the joke is funny even if you are capable of accepting a fiction in which Randy has ever been asked out by Megan and/or where Randy is capable of turning her down. You see, some people dislike 3D movies because they give them a headache, and, when asked to attend, it is very plausible that they would say something very much like Randy said in the comic here.
If you are a master of words like Randy, you'll notice that "movies" does not appear in Randy's dialog in this comic! This is a quirk of human conversation, where people will often assume that a certain noun is implied and avoid repeating it endlessly, instead using pronouns or nonspecific nouns such as "stuff" to refer to them. Randy has noticed this, and, as he is a cunning linguist
(sluuuuurp)
, he has decided that, since "3D stuff" theoretically refers to the
entire world
, it would be extremely hilarious if someone were to reject Megan's amorous advances to do things like ride bicycles by saying "I'm not into 3d stuff because it gives me a headache, GET IT LIKE 3D MOVIES???"
This was accompanied by some sort of script which drew a bunch of extraneous lines around the comic for some reason, which sort of but not really reacted when I moved my mouse around.