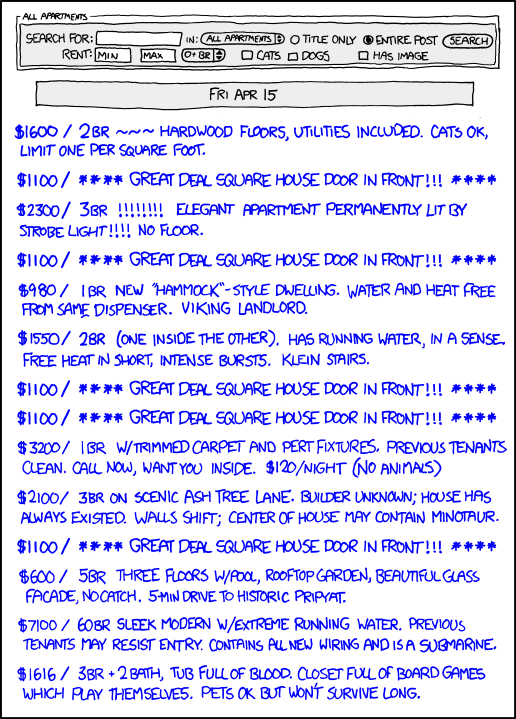 [Comic title: Craigslist Apartments; Alt text: $1600 / 1386153BR 3BATH, MODERN SLIDING DOORS, GUEST ROOMS, GARBAGE DISPOSAL. FREE MANDATORY PARKING (ENFORCED). CONVENIENT TO ALDERAAN.]
Since Randy was evicted from his latest place (they have a strict 'no creepy stalkers' policy), he has been searching for new apartments on Craigslist, since his friends are starting to get tired of his continued presence. (As are all of us, of course.) But Randy is a man of ingenuity. He is a man who turns his situation into humor, and Craigslist and apartment-hunting are a veritable gutted gold mine of jokes.
As a true connoisseur of the GOOMH and the cheap laugh, Randy has perfected a technique known as the "list joke." This is a cheap technique used to group together a large group of usually subpar jokes, in the hope that at least one of them will stick and inflict humor upon the unsuspecting.
References include Chernobyl,
House
of Leaves, Star Wars, Viking slave ships, submarines, spam, and some other shit I'm too lazy to compile. And, of course, apartment-hunting. Odds are pretty good that, if you're a nerd, you'll find a joke to laugh at here, or to GOOMH at here. This is a lazy attempt at humor, but ultimately not a terrible one--though some of the individual jokes are kind of stupid, some are all right, and there's just so many of them. The concept isn't awful, also.