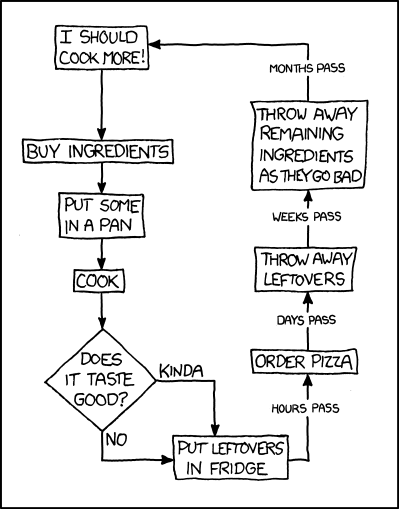 [Comic title: Learning to Cook; alt text: "And yet I never stop thinking, 'sure, these ingredients cost more than a restaurant meal, but think how many meals I'll get out of them! Especially since each one will have leftovers!'"]
Randy's inability to get Megan to go on a date with him has left him feeling sad and alone at mealtimes these days. Food is nothing more than a sad necessity to Randy, who makes sure to light the candles every night at mealtime, and only takes himself out to the places recommended on CitySearch or Yelp as great date spots, sadly murmuring, "one day, Megan, one day."
For a man like Randy, cooking has always been one of those things that he deeply wishes he could do, being as he is simultaneously lonely, useless, and possessed with an itinerant fascination in all things DIY (until he realizes that DIY still means "do it yourself" and that "do it yourself" means work). But being as he is useless, talentless and lazy (much like your editor, in fact), every effort to cook ends in failure.
Like a Darren Aronofsky film, every step of the road to cooking is fraught with failure where it ought to succeed. Buying ingredients costs more somehow. His cooking is at best kind of acceptable. And when hunger comes round again, the yearning for pizza overwhelms him. He dials some cheap pizza company and orders a pizza. And the pizza remains tasty for days, while his cooking festers in the fridge, mocking him. "You could never make me as good as your pizza," the leftovers whisper, and Randy knows this to be true.
And he could cook again, of course, but what would be the point? Already he has fallen into a cycle of failure and discarded his sad attempts at sustaining himself. No, his heart belongs to the pizza-industrial complex. The rest of his ingredients occupy space in his fridge until they, too, finally rot and make the last pilgrimage to the dumpster. And months later, with his failure forgotten, or with the deluded belief that he can change, he can do better now, he tries again.
At long last, Randall decides to document his failures with a flowchart. But it is a flowchart bereft of humor--this flowchart represents the sad prison Randall Munroe now occupies. There are no choices. There is only an endless cycle of failure. In the end, Randall Munroe can't even sustain himself.