[Demon cult-god "Professional Mole" has interrupted my Megan/Randy fanfiction wank session to bring you this special guest post. -Ed.]
The first question I believe I should answer in this "review" is: why? Because every vermin has his day and, really, why not? I'm working on the assumption, of course, that
absolutely anything
is better than Rob's ramblings about Randall's/his infinite and frustrated love for this mythical figure named Megan. Oh, shoot, now this review will be completely about Megan just because I mentioned her name twice in the first paragraph! RUINED FOREVER!!!1!1one!
...have you noticed I'm completely nuts already? Good, this will save some time!
But(!) Let's not waste any more time with moley ramblings. To the comic!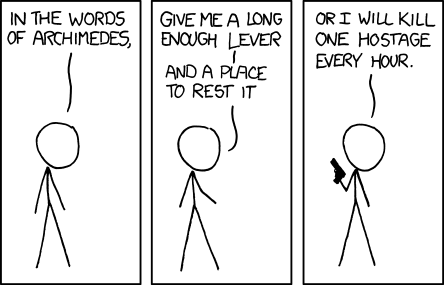 [Title: Archimedes; Alt-text: Give a man a fish, or he'll destroy the only vial of antidonte.]
My hatred for xkcd fluctuates a lot. It's usually at a minimum, then raises when I notice Randall actually makes money off this lazy heap of shit. It raises more when Randall pulls off obvious references instead of attempting any real humor, and then some more when Randall ruins a perfectly good comic with a stupid punchline or PPD. Notice I did not provide any links for these occurences because, frankly, I don't give a damn. But there was one goddamn strip that made my blood boil.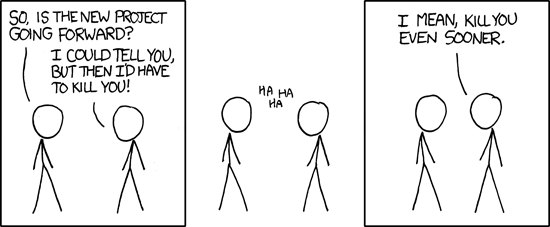 "Joshing"
. By the great old mole in the sky, isn't that a horrible lazy piece of crap that couldn't even count for an excuse of a comic! That's when any sort of sympathy I had for Randall suddenly sublimated and I realized not even he takes this as seriously as his related economical enterprises could suggest. It's this sort of comic we're talking about here! And the reason I'm bringing up this piece of shit is because... what, arey you blind? Look at this comic! It's the same goddamn shit!
This new comic has nothing good to offer. It has no interesting art(wow, Randall, a stick figure talking over white background, what a feat!), no effort(HEADS. NECKS. AT LEAST CONNECT THEM, RANDALL!), no humor(for someone ranting about "trochee humor", Randall sure loves to cater to the internet's love for all things random, don't he?), no cleverness(...repeat what I said in the last parenthesis)... nothing except: a)a nerd-ish reference; and b)a RANDOM LOL non-sequitur. And then the alt-text joins in, because apparently this is hilarious. Then I suppose Randall picked up a Mad-libs book and started filling all the blanks with "penis". Oh, Randall, you're on fire!
I don't think this comic can be fixed in any way that's not "trash it and start all over again", so let's end this review with a treat for any xkcd fan here to berate us with stupid responses to criticism: RANDOM NON-SEQUITUR-ED FAMOUS QUOTES!
-
Love is the law, love under death penalty.
~Aleister Crowley
-
Follow me; and let the dead raise from their graves and start the Zombie Apocalypse.
~Jesus
-
My prodigious sin was, and still is, stealing that non-descript object from a dying woman's house.
~Charlie Chaplin
-
Plato is my friend — Aristotle is my friend — but my greatest friend is an IMI Uzi.
~Isaac Newton
-
If I have seen further it is only by looking through a sniper scope.
~Isaac Newton again because... why not?
Enough! This is so incredibly dumb I should start a shitty webcomic and sell shirts with these on. I'll probably be filthy rich in a month!
...wait a second.
[didn't actually read it, so whatever -Ed.]