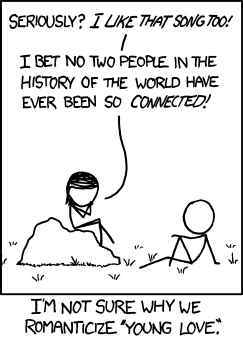 [ALT: Or love in general, for that matter. It just leads to the idea that either your love is pure, perfect, and eternal, and you are storybook-compatible in every way with no problems, or you're LYING when you say 'I love you'.
(sic)
]
I'm going to be frank with you. I don't recall ever being so utterly surprised by a comic as this one--especially the alt text. I have never finished reading one and sitting back and thinking "Holy shit" like I have here. This one just blew me away with how fucking terrible it is. I didn't think Randy could stoop to that level.
We've all made fun of his creepy romance comics before--the ones which are all bleak and depressing and about things ending in despair, but those always felt like he was at least going for artful, like if you squinted and looked at it kind of sideways it wasn't expressing the author's sentiments. He distanced himself from them, kind of. There was plausible deniability. Not so for this one! This reads straight up like the rant of a man who just got dumped hardcore, and is pissed about it. (Note: I think it's dumped, not rejected. Hopefully the reasons will become clear.)
We'll start with the comic, which on its own I might have found unremarkable--here we have the implication that all relationships based on common interests are shallow as all get-out, and entirely misleading! (I will not make
any
snide
remarks
about how Randy frequently romanticizes people based solely on things they are into. I am above that sort of thing.) Do you hear me? You're fooling yourself into thinking that liking the same things means you'll have any connection with someone, because, uh, other people like the same things, too, and you aren't dating all of THEM, are you??
Nevermind that information like "your favorite song/your interests" tends to be material for first dates, or the first couple dates, and isn't the basis for entire relationships. But it's pretty easy to have a conversation about your favorite bands, if you aren't a complete idiot, and traditionally the way we get to know someone is by having conversations with them.
Not sure why Randy doesn't like this method
This makes perfect sense for Randy, who has the social skills of a rotten ham sandwich.
And then we get to the alt text. Oh man, the alt text. This is your textbook nerd-gets-dumped sour grapes. "Love is stupid anyway, because when I said I love you she dumped me and that means that love doesn't last forever so why should I even want love because it's all dumb?" It is, of course, entirely unconvincing--he desperately wants that connection, that storybook perfection, and it shows--but he's trying so fucking hard to act like he's SO OVER this love thing, it's stupid and he doesn't even understand it, GOD people are so much dumber than computers!
This is the part that really shocked me with its hideousness. This isn't striving for deep, or artful, or funny. This is just straight up "either your love is 100% storybook perfect or you're a LYING LIARFACE." It's a tantrum, put in a place where he knows he'll get his legion of loyal fans to read it and say "OMG SO TRUE," despite its lack of profundity, its offensive simplicity, its complete lack of saying anything but "I lack the emotional maturity to handle my breakups in an adult way."
This is the sort of thing that should only appeal to emotionally stunted self-diagnosed Aspies who congratulate themselves on their poor understanding of social dynamics, thinking that they are profound realizations that pierce the veil of dishonesty that shroud all human interactions. It only gets worse if Randy isn't being sincere, since it means he's just cynically exploiting people who don't know any better--letting them assume that because he says something they agree with that he has a level of profound genius. He ought to be fucking ashamed of himself.
...actually, I take it all back. Randy knows his target audience fucking perfectly.