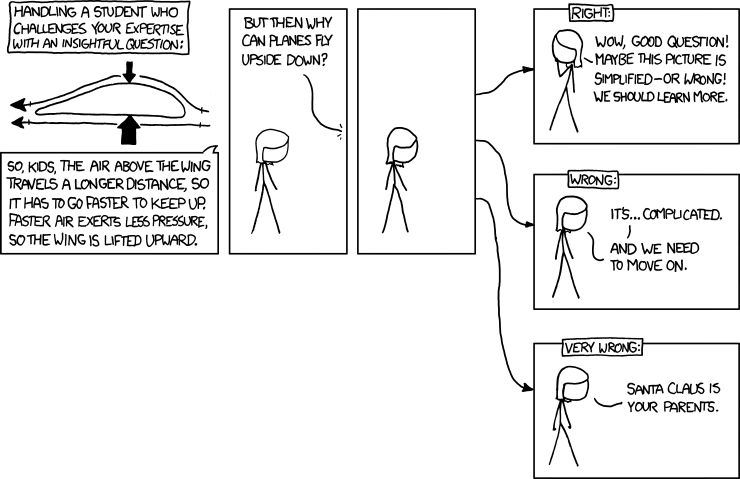 [Alt: This is a fun explanation to prepare your kids for; it's common and totally wrong. Good lines include 'why does the air have to travel on both sides at the same time?' and 'I saw the Wright brothers plane and those wings were curved the same on the top and bottom!'
I find Comic 802 too boring for words, so you should read
this dude
's rant about it. I will note, however, that this time he has a preorder up for posters, so all of you who for some reason think that when he posts an obvious poster grab he's not doing it because he wants to sell a poster can get fucked.
803, now! 803 is terrible. Randy is back to his old tricks, which is to say, he is complaining about how teachers don't cater to his every whim in class. Randy is special, you see, and his teachers told him to shut up when he called them out on providing explanations that did not stand up to his rigorous engineer's standards. (He says it is "totally wrong," which is not true. It's actually reasonably close to correct, albeit way too simplified.)
Furthermore, he thinks that it is a good idea to equip your children with clever zingers to harass their teachers when they do not provide you with the engineer's version of a scientific explanation. He further thinks that it is wrong for the teacher to say "that's really too complicated to go into at this juncture, and we need to move on" instead of saying "GOLLY JEEPERS YOU'RE RIGHT LET'S LOOK INTO IT RIGHT NOW AND BORE THE REST OF THE CLASS AND DERAIL THE CURRICULUM."
I'd like to address the "equip your children with clever zingers" bit first. I attended a private Christian school when I was a lad. Around middle school to high school, we started receiving education on "clever things to say to a teacher who is teaching that evolution is true or that the world is older than like two or three weeks old, tops." They were mostly envisioning that you'd say this to a teacher, and imagining that everyone would laugh at how flustered he got and praise you as brilliant and clever and possibly lick your nipples when you got home. Just throwing that out there--Randall is suggesting the same tactics used by young-earth creationists who write propaganda textbooks.
And on to the part where Randy thinks that teachers should cater to students disrupting the flow of the classroom. This works pretty well in his hated humanities courses, actually. I've had a professor literally change the final project to something else because of things that came up in the class. Humanities classes tend to be full of lively discussion, and the teacher is there to guide that discussion to the right places. Unfortunately the comic is apparently about a science class! There is no time for that sort of bullshit in the hard sciences. You would never get your curriculum done! And if you only get 2/3 of your hard science curriculum done then you're only 2/3 superior to those damn humanities students!
But I guess in Randyland it's always appropriate to correct someone about science, especially when they're a teacher. It's their own fault for not being engineers, I guess.
(notice how I'm ignoring the "joke" about Santa being your parents? that is because it is so fucking stupid there's really just nothing to say about it.)