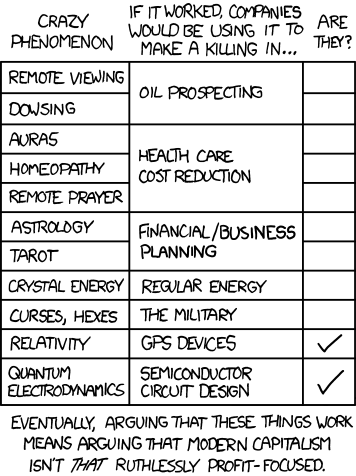 [ALT: Not to be confused with 'making money selling this stuff to OTHER people who think it works', which corporate accountants and actuaries have zero problems with.]
Oh man, it has been ages since the last chart comic! I was starting to think Randy didn't love me anymore. But here we have one--and it's even got straight lines in it! This is truly the best comic Randy has ever made.
So I guess the point is that if all of these random mystical things worked, then people would use them to make a fortune, because capitalism etc? Either that or capitalism must not work. That seems to be the conclusion Randy is drawing from this extensively researched chart, anyway. Which is obviously true! Everyone knows that when you have some talent or ability that works, you are 100% likely to make a fortune exploiting that talent. This is why all rich people are incredibly brilliant and all poors are inherently lazy slobs!
Randy's poor understanding of capitalism aside, I am striving to locate a joke. I only think there must be one because even Randy can't seriously think he's being insightful here--this is not just preaching to the choir, it's the Platonic Form of preaching to the choir. We get it, bullshit mysticism doesn't work! It isn't funny or clever to point that out, especially when you can't even fucking do it right. We know that you've got this convenient dead horse that looks like it needs beating from time to time, Randy, but it's dead. It was dead long before you got here. Just stop. It's getting kind of gross.
Finally, I'd like to quote from xkcdsucks commenter and mustachioed cerealmonger Capn, in the previous comment thread:

Not checked:
Phenomena as potential, (read: non-existent) lower cost/benefit ratio, solutions to actual problems that have existing solutions.

Checked:
Phenomena that needed to be solved and understood, or cropped up, as components of known solutions to known problems.

Counter-Argument for the table:

Crazy Phenomena:
Spontaneous generation

If it worked companies would make a killing in ...
Cricket Production

Are they?
Yep.

Crazy Phenomena:
Alchemy

If it worked companies would make a killing in ...
Transmutation

Are they?
Yep.
Also worth noting, pretty much every one of the fields Randy mentioned where companies would be making a killing are, in fact, fields where companies are making a killing already. Where by "pretty much" I mean "literally all of them, what the fuck is wrong with you, Randy?"