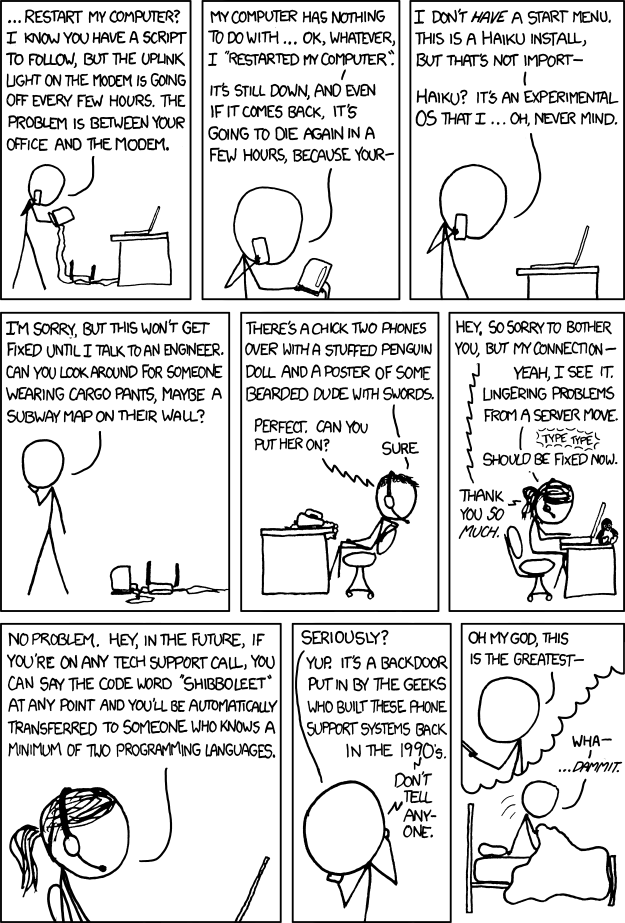 [Your editor would like to start by apologizing for being late. Your editor knows that you are used to Carl "Won't Return My Phone Calls" Wheeler's lazy "oh hey the day before the next comic is up is good enough for me!" style, but we are aiming to be prompt. The blame lies squarely on the shoulders of today's poster, a mysterious and terrible monster known only as "shufti." Your editor hopes you are somehow capable of enjoying it. Your editor certainly was not. -Ed.
]
Welcome to every nerd's wet dream, where "experimental" operating systems (whatever that means) don't have anything to do with internet connections, every office has a stereotypical Linux girl ready and waiting to respond to your mighty call of "Shibboleet", and "lingering problems from sever moves" can be fixed in, like, three seconds.
I mean, seriously, a stuffed Linux penguin and a poster of xkcd's version of Richard Stallman? If she knew, like, two programming languages and treated everyone who was like her as some sort of secret society, complete with password, she'd be the stereotypical xkcd girl too.
...Oh wait.
Hilarious wish-fulfillment aside, this is, at its core, yet another comic frustrated that the world isn't good with technology. We've seen those before. It's also a comic about how superior people who use Linux are. We've seen that before. Hell, we've even seen the exact inverse of this comic - remember
#278
? Hey guys, if you use Linux you are so smart and your tech support is so awesome that getting bad tech support for a Linux distro is a HILARIOUS concept because of how IMPOSSIBLE it would be. Oh, and, hey, remember that time Randy himself sent a
check to Verizon
for $0.002 because of a HILARIOUSLY bad tech support phone call? Remember how HILARIOUS that all was? Well hold on to that thought, because I need to barf.
...
Alright, I'm back. You know, I'm pretty much constantly confused why any group, nerds or geeks or otherwise, would feel the need to insist that their group is "better" than another group. I get chauvinism; giving opportunities to people like yourself over people not like yourself is basic human behavior. I get the juvenile reasoning behind superiority complexes; "if you're not 'better', you're 'worthless'" is exactly the sort of thing an insecure adolescent would think. See, I just don't get why this juvenility is so damn pervasive even amongst post-pubescent groups. I'm going to say something that'll probably surprise you - I think Randy is a pretty smart dude.
[The views contained in this post belong solely to shufti, who is a wretched fiend and must be wiped from the face of the earth, and do not necessarily reflect those of Aloria and Rob, God-Queen and King of Hatred -Ed.].
Broadly speaking, in fact, I think he's probably a smarter dude than I am
[This, however, is true. -Ed.]
. Randy's got a physics degree, he's worked at NASA, knows several programming languages, and has a great aptitude for technology. Hell, he's even written some short fiction that was pretty good. Me? I'm just some undergraduate going for an English degree. I run a
rarely-updated flash fiction blog
and a
somewhat-more updated blog
dedicated to remixing xkcd. The combined hits for both of those blogs over their entire lifespans probably don't even come close to the hits any single xkcd comic gets on any single day. Why is it that Randall is the one who feels the need to keep asserting how awesome he is, while I'm the one content when I get one or two constructive responses to some poem I throw up
[BLAAARGH -Ed.]
on my Facebook?
I know what a lot of you will say - he's famous for a horrible comic which is causing him seven levels of existential torment, etc. etc. I'm sure that's at least partially why. But that can only be significant if his standard for legitimacy is still tied to beliefs he should have outgrown by the time he started working through college. And that's my question - why didn't it? And why didn't it for so many others, including so many of xkcd's current fan base? Comics like this (and the
slavering
support
it
so
consistently
gets
) just make me sad for exactly that reason.
[They also make your editor sad because they suck, horribly. -Ed.]
To: Randall Munroe
CC: xkcd fanbase
You are smart in your own right. You don't need to prove this to anybody. You're only holding yourself back by forcing other people to deal with your own issues.
(Two notes: one, I'm not railing against people with legitimate social disorders like SAD, and two, I'm not saying that all fans of xkcd are socially retarded basement-dwellers. All I'm saying is that I wish that Randall and those like Randall could learn to see more value in themselves and others without obsessively clinging to the metric of peer approval.)